Congress Senior leader and MP Rahul Gandhi-led Bharat Jodo Yatra entered Andhra Pradesh on Tuesday when he travelled from  neighbouring Karnataka to Halaharvi in the Aluru constituency. The Yatra will continue for 119 kilometres in Aluru, Adoni, Yemmiganur and Mantralayam constituencies for four days.
Andhra Pradesh Congress president Sake Sailajanath and other senior Congress leaders received Gandhi as he entered Andhra Pradesh. On Tuesday, Rahul will cover Aluru, Hatti Belagal and Munikurthi in his yatra. He will make a night halt at Chagi village under Adoni.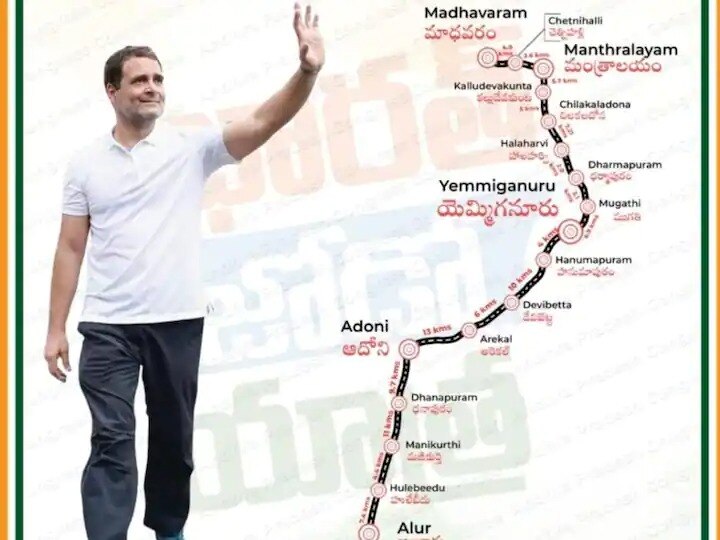 The Congress leader began the Bharat Jodo Yatra on September 7 in Kanyakumari. He entered Andhra Pradesh on October 14 and continued the rally in the Anantapuramu district bordering Karnataka. The Yatra will continue through Andhra Pradesh till October 21, when he will re-enter Karnataka en route to Telangana.
Gandhi entered Andhra Pradesh after completing his padayatra in Tamil Nadu, Kerala and Karnataka states. He has already completed more than a thousand kilometres of padayatra. 
Rahul's Bharat Jodo Yatra launched on September 7 in Kanyakumari and will cover a distance of 3,570 km across 12 states and Union Territories for 150 days. The 3,570 km yatra will be a historic event for the Congress and is set to be the longest foot march by any Indian in the history of the country.
According to the ABP Desam report, as part of the yatra, the Congress leaders are planning to have Gandhi undertake the second phase of the Bharat Jodo Yatra in Gujarat by the time of the elections.