Viral star Uorfi Javed has spoken out about her feelings on Tunsiha Sharma's death. Actress Tunisha Sharma, 20, was discovered dead on the set of the popular TV show 'Ali Baba: Daastan-E-Kabul'. Speculation persists that the actress's suicide was precipitated by her co-actor Sheezan Khan, the man she was allegedly dating. 
After hearing the news of Tunisha Sharma's suicide, Uorfi sent an impassioned note in defence of Shezaan Khan. She urged young ladies to value their lives and not risk them for anybody.
Uorfi posted the following on her Instagram Story on Wednesday night: "My 2 cents on Tunisha's case, yes he might be wrong , he might have cheated on her but we cannot blame him for her death. You absolutely cannot make someone stay with you who doesn't want to stay. Girls no one I REAPEAT NO ONE , is worth giving up your precious life for. Sometimes it might just seem like the end of the world but trust me it's not."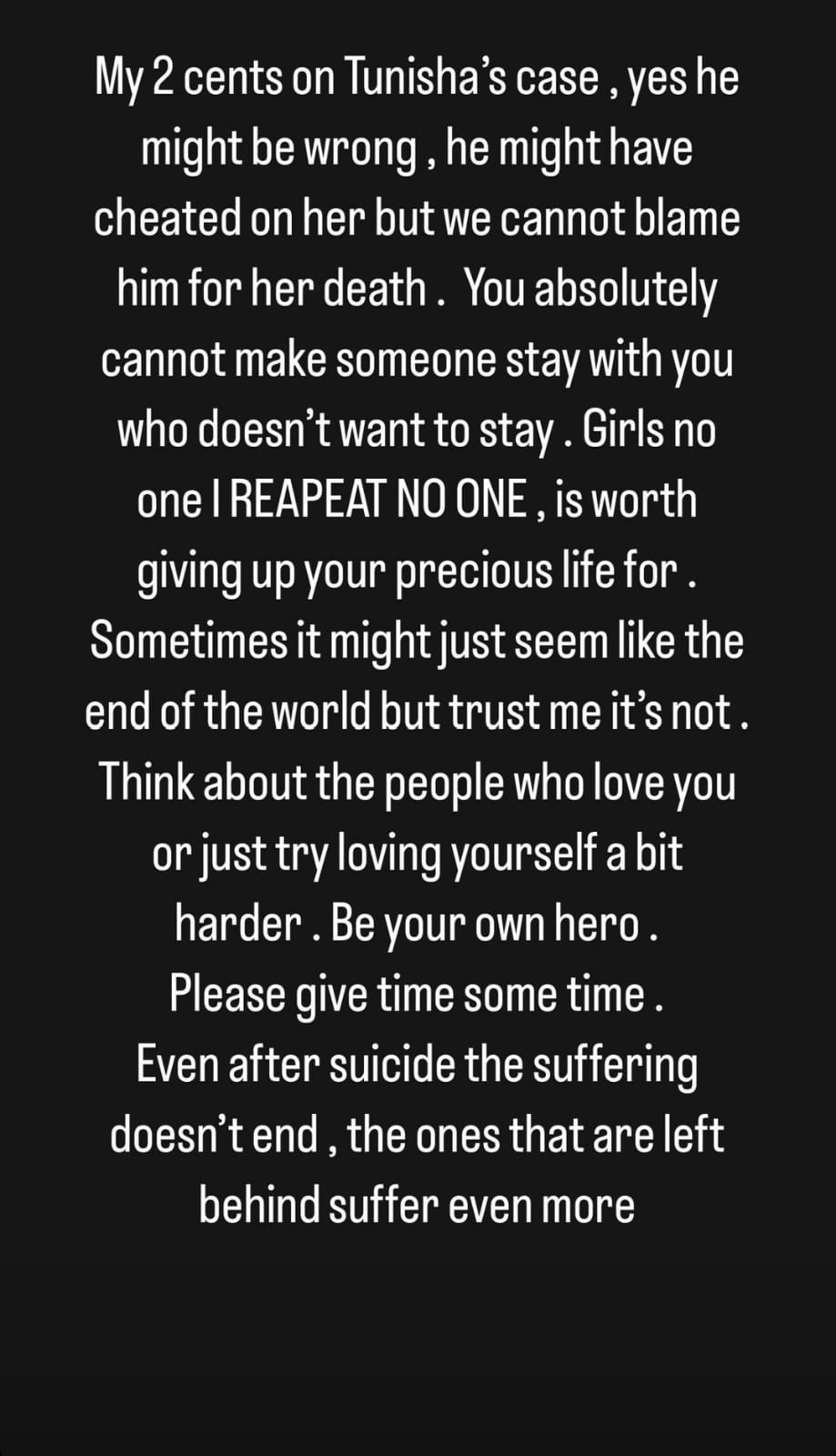 Urfi went on to tell the peple to appreciate their loved ones or to learn to love themselves more. She added, "Think about the people who love you or just try loving yourself a bit harder. Be your own hero. Please give time some time. Even after suicide the suffering doesn't end, the ones that are left behind suffer even more."
On December 24, Tunisha Sharma reportedly died by suicide. Shezaan Khan, who has been arrested on suspicion of aiding suicide, is one of the 22 people whose statements are said to have been recorded by police who are investigating the case.Sheezan was arrested and charged with violating Section 306 of the Indian Penal Code after a case of aiding suicide was brought against him.
Apparently, the actor has not yet provided a clear explanation for why he broke up Tunisha. The police reported on Tuesday that he has also frequently changed his statements. According to reports, actor Sheezan Khan also broke down in tears in front of a female cop while being questioned about the case.