Shah Rukh Khan's comeback caper "Pathaan" is set to release on January 25. Staying true to the latest course against most Bollywood releases nowadays, #BoycottPathaan too started trending on Twitter, with hundreds of citizens voicing their disconcert against everything from the movie's title to Deepika Padukone's orange bikini. So, just to quell our curiosity, we decided to take the matter to AI court and asked ChatGPT, "Should you boycott 'Pathaan' movie?" The response was predictable, with a hint of logical advise.
ChatGPT started off with the usual disclaimer that since it is an AI, it does not hold any personal opinion or even has the ability to make ethical and political decisions. "It is up to individuals to decide whether or not to watch a movie and whether or not to boycott it," the chatbot wrote. "It's important to consider the reasons for a boycott and make an informed decision."
Following that, however, ChatGPT offered a slightly wise take on the situation: "It is also important to note that boycotting a movie or any other form of art does not necessarily resolve the issues or change the situation, it is always better to have a dialogue and raise your voice against the injustice."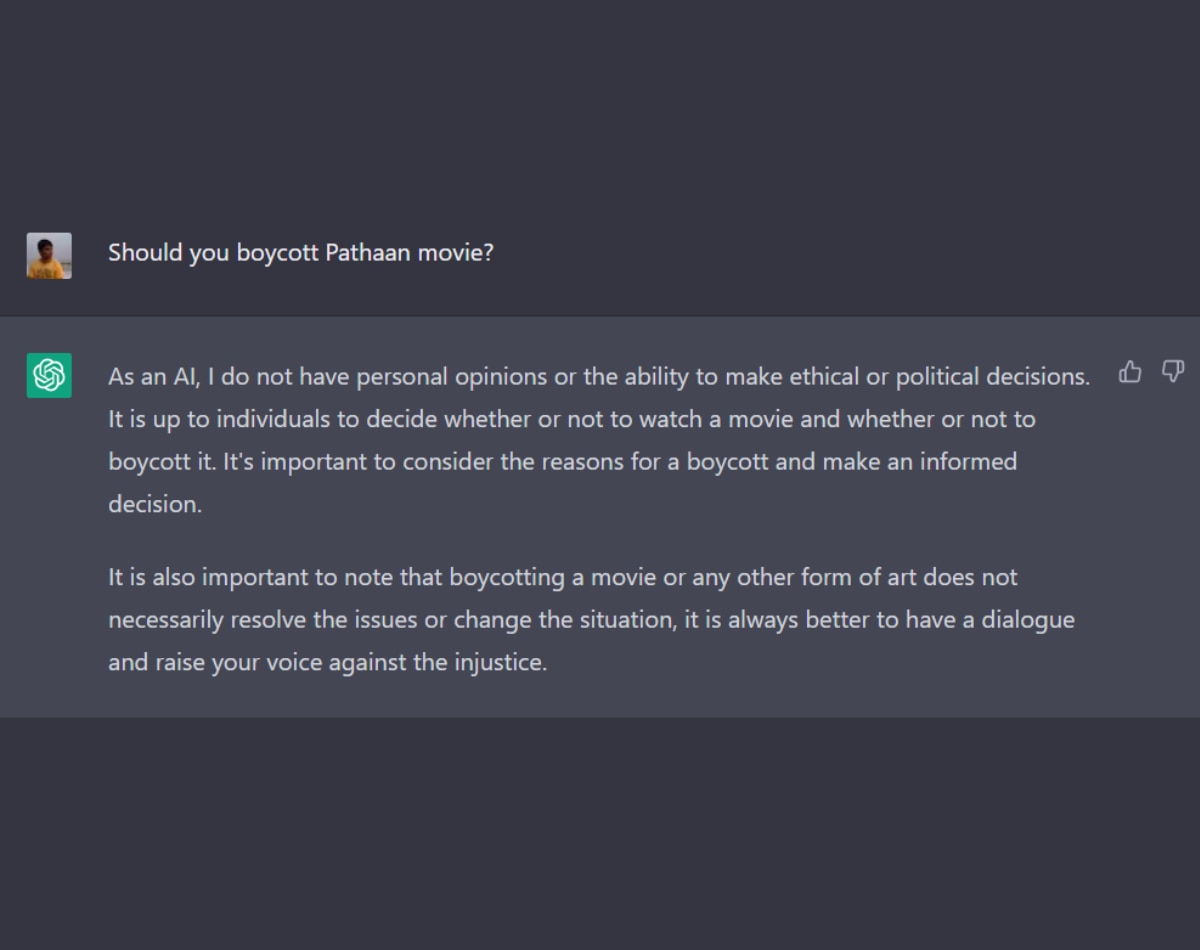 Why is #BoycottPathaan trending?
Ever since "Pathaan" was first announced, there have been social media posts on why viewers should boycott the movie. Firstly, some called for a change in the film's name. However, Khan and Yash Raj Films remained unperturbed and decided not to change the name from "Pathaan" after all.
Then, when the music video for the film's song "Besharam Rang" first broke cover, featuring Padukone in an orange (dare we say saffron?) bikini, some viewers demanded a removal of scenes of Padukone wearing the said attire and that the name of the song itself should be changed.
Narottam Mishra, the Madhya Pradesh Home Minister, in December last year claimed that the name hurt Hindu sentiments, as the video showed saffron and green colours being used. "Pathaan" makers managed to remain unflinching here as well, bringing in no change whatsoever.